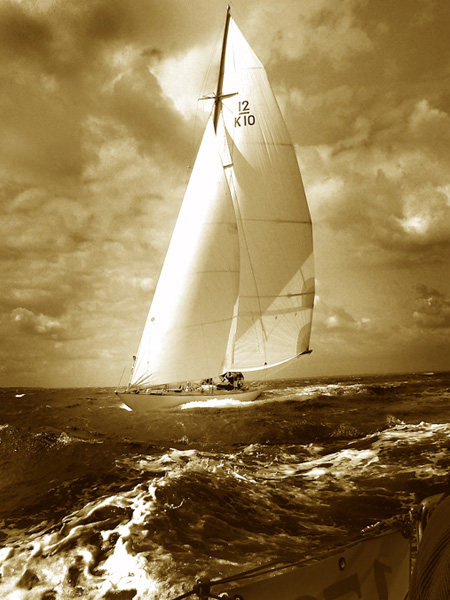 Trivia 2003 in the Baltic Sea © Thanos Efthimiadis
The 1939 season marked a breakthrough for the Twelve metres as the dominant class in international yachting. The leading yacht designers and yards who had previously built the giant J-Class yachts for the America's Cup now turned their focus to the 12 Metre class. William Fife built FLICA II for Hugh Goodson, Alfred Mylne designed JENETTA for Sir William Burton, Charles Nicholson delivered TOMAHAWK to Sir Thomas Sopwith and Olin Stephens designed VIM for Harald S. Vanderbilt. Although it would take two more decades until the America's Cup would continue with Twelves, this season was a first glimpse at what was to come. Especially VIM and FLICA introduced many innovations, such as tank testing, aluminium masts, rudder trim tabs, rod rigging and coffee grinders. Still, TRIVIA and EVAINE held up nicely and even won a number of races again, but VIM clearly dominated the season. It was a change of design generations where William Fife, Alfred Mylne, Johan Anker and Charles Nicholson would have to leave the future to the young Olin Stephens, who would dominate the America's Cup for the upcoming 4 decades.

The Second World War brought an end to the regattas for the Twelve metres in Great Britain. Vernon MacAndrew died on June 22nd 1940 as a German magnetic mine sank his yacht Campeador, which had been converted to a patrol vessel. His patriotic, courageous and unselfish attitude is described in Cecil Hunt's book "The Gallant Little Campeador".